When looking at where you want to move, buy a second home, or even just vacation the climate is usually questioned. It certainly is not the only factor and I do not think all the factors can be quantified on paper. Like the fact people often migrate back to what they know. I mean vacation memory lane is for sure a happy place to me. Why not go back there? Or the fact certain places have the right ambiance, and first impression is everything. Then different people have different personal opinions about what is aesthetically pleasing.
Any rate back to the weather. As put in an Outkast song, "You can plan a pretty picnic, but you can't predict the weather." We can look at historical averages though. Here they are. I pulled numbers from weather.com and intellicast.com and averaged them in the table below.
Temperates are in Fahrenheit and Precipitation in inches.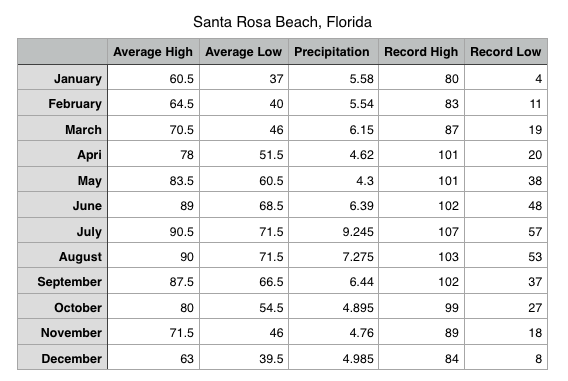 Looking at this table you will notice November is actually warmer historically than March. No telling how may people who have been to the beach in March, which is peak season, but have never been in October. You can see in the table above October is on average 10 degrees warmer than March and historically has an inch and a quarter less rain fall. What the table doesn't show is water temperatures are warmer on the back end of summer vs. the months following winter.
It is great that in 2018 this data is so easy to find. I constantly compare current weather conditions on my phone between cities. I grew up in Birmingham, Alabama and I probably check the weather in city the most. There are many days that it is no more than ten degrees different, but it is ten degrees that really matter. It will be 75 and sunny here and 65 and cloudy there. I am not trying to say this climate is for everyone. There are places like South Florida that stay warmer. Some people like places that get colder and snow. Here is where I want to be, so I did not wait for retirement. I moved down and have not looked back!
Jonathan Hill
Facebook
Instagram
www.jonathan.30alocal.com

Jonathan grew up in Birmingham, Alabama and vacationed from 30A to Destin every time he got a chance while growing up. He attended The University of Alabama where he double majored in finance and busi....